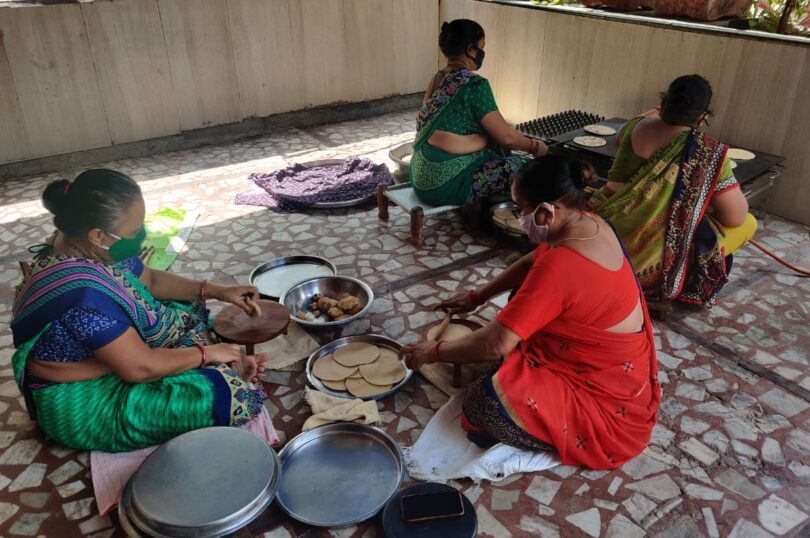 Abhijit Mulye
Mumbai. In the second wave of COVID-19 infections, Konkan Prant unit of the RSS along with numerous organizations working in various walks of life have undertaken several relief measures for the COVID patients, their relatives and the frontline workers in the medical field.
The needs and challenges during this second wave are very different from those during the first wave last year. This has also completely altered the form and methods of the relief measures undertaken this year. The various types of relief activities can be roughly grouped as follows – Providing beds, Oxygen concentrator and Wheel Chairs to patients in Home Isolation, Counselling, preparing lists of prospective plasma donors and organizing plasma donation camps, organizing blood donation camps, providing guidance related to ayurvedic, homoeopathic and allopathic medicines etc.
RSS Janakalyan Samiti, Keshavsrushti My Green Society, Seva Sahayog, Sevankur, Niramay Seva Sanstha, Arogya Bharati, Samidha, Health Concept, Rashtriya Seva Samiti, Chingari Seva Foundation, National Medicos Organization and Samasta Mahajan are some of the voluntary organizations (VO), non-governmental organizations (NGO), professional bodies and institutions that are working in organizing various relief measures in Mumbai. A helpline (No. 022-41667566) has been set up for the benefit of the public by these organizations.
Blood Donation Camps – total 1,884 units
Blood donation camps are being organized in various parts of Mumbai as well as some of the districts across Maharashtra. Bhayandar, Navi Mumbai, Dindoshi and Marve are some of the areas where blood donation camps were organized in the past few days. Bajarang Dal also organized several blood donation camps during the auspicious period between Ram Navami and Hanuman Jayanti. A total of 1,884 units of blood was collected from such camps till April 25. Men and women from Amrut Shakti and RSS Janakalyan Samiti organized most of these camps.
Relief for migrant labours – On April 18 and 19 at Kurla Terminus distributed a total of 10,000 litres of drinking water to migrant workers who were returning to their hometowns in wake of the lockdown in Mumbai and Maharashtra. Anticipating the huge crowds at the station nine mobile toilets too were arranged especially for women.
Lists of Plasma doners – An awareness campaign regarding plasma donation has been undertaken in Mumbai and lists of donors as well as receivers are being prepared in Mumbai. A google form (https://forms.gle/NzwEb6cwBHshZwE69) is being circulated to facilitate enlisting them.
COVID care centre – With joint help from the Ravindra Joshi Medical Foundation and Mumbai Municipal Corporation, Keshavsrushti My Green Society (KMGS) is running a 30 bed COVID Care Centre at Nityanand Municipal School at Andheri (E). The completely airconditioned centre provides a 24×7 medical treatment facility. Some of the beds have Oxygen facilities such as Oxygen Concentrator and Cylinders. The centre also has a dedicated ambulance in service. Meals, snacks and tea are provided at the centre by the ISKCON, Juhu. The centre also has provisions for counselling of patients, TV, Wifi and entertainment. All these services are completely free of cost. Janakalyan Samiti has provided six commode chairs at the facility. KMGS has also started a 40 bed COVID centre and counselling centre at Divya School in the tribal town of Jawhar in the Thane district. A helpline has been set up to facilitate speedy communication at the centre.
Oxygen Concentrator – Janakalyan Samiti of the RSS has been trying to set up Oxygen Concentrator facilities at various poor and needy neighbourhoods across the megapolis. At present 10 Oxygen Concentrator facilities have been set up in Mumbai. A similar facility has been set up at Kalyan where it is made available at a minimal cost.
Tiffin service – In the Dahisar-Goregaon area of suburban Mumbai, a tiffin service has been started for home quarantined families. The facility has generated a good response where all members of the family had COVID infections and they couldn't even prepare their food. The service came as a huge relief for them. From the community kitchen set up at Borivali on April 1 a total of 1,200 tiffins are being provided twice a day, while the similar facilities started on April 16 at Malad and Meera Road are catering to 250 and 150 families twice every day.