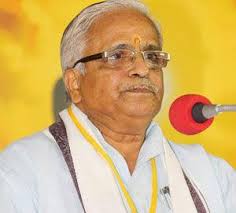 New Delhi. RSS outfits have sought the country's highest civilian award 'Bharat Ratna' for Rani Ma Gaidinliu, a Naga freedom -fighter who had spent 14 years in jail fighting British Raj.  Winning the title of 'Rani' of the entire North-Eastern Hills when the first Prime Minister Jawaharlal Nehru visited her in Shillong jail in 1937, the tribal leader's struggle has now been recognised by the Sangh Parivar and a couple of Chief Ministers of North-East States who seek to place her high in the Pantheon of National heroes.
The effort is to bring a national hero from the North-East, who was not popularised at a national scale despite her "extraordinary range of political struggle" to win freedom and resistance to "cultural invasion". 'Vanvasi Kalyan Ashram' is backing 'Rani Ma's birth centenary celebrations from January 26, 2014 to January 26, 2015, organised by her supporters.
Besides the RSS, the National Committee for Birth Centenary Celebration of Rani Ma Gaidinliu (NCBCCRMG), of which Nagaland Chief Minister TR Zeliang and Manipur Chief Minister O Ibobi Singh are the patrons, has written to the Prime Minister  for awarding this year's highest civilian honour to her.
This apart NCBCCRMG has sought the renaming of the Dimapur Airport after  Gaidinliu. Setting up of a Central University at a suitable place, a museum in her name at Kohima and installation of her portrait in Parliament and statues in Delhi and other cities.
Rani Gaidinliu (January 26, 1915-February 17, 1993), born at Nangkao village in Manipur, was a fearless freedom fighter who joined the agitation at the age of 13 and headed the movement against the British in the Manipur and Naga belts. The Government of India honored her with the prestigious Padma Bhushan in 1993.
In 1932 at the age of 16, Rani Gaidinliu was arrested and put behind bars for life. She could be freed from the jail only after India's independence in 1947.  RSS sees Gaidinliu as a source of inspiration for the "Hindu resurgence movement" in the North-East and supporters of "Sanatan Dharma".
In the run up to her birth anniversary on January 26, Gaidinliu's legacy will be fully resurrected and preparation towards that end has already started with Sangh outfits organising various functions in her memory. Last month, historians and 'Akhil Bhartiya Itihas Sankalan Yojna' aiming to "rewrite" history from "National perspective"— conducted a two-day seminar in Guwahati on Gaidinliu's legacy.
"The country would celebrate the birth centenary of Rani Maa Gaidinliu on a large scale," Sarkaryavah (General Secretary) Shri Suresh (Bhaiyyaji) Joshi said at a RSS meeting in Bangalore,"Ma did not rest after her release from the jail and got engaged in struggle against the religious conversions in the NE hills and the anti-national activities of the Naga National Council," he said advocating "national honour" to the inspiring figure of 'Rani Ma'.
With the BJP dispensation at the Centre, a new set of rising stars are set to replace the symbols of 'bygone era'  with those, thus far, shining dimly  in the background, 'for too long a time.' Nanaji Deshmukh, Deen Dayal Upadhyaya, Sri Aurobindo, Swami Vivekananda, Syama Prasad Mookerjee, Hemu Vikramaditya, Ayyankali, Sri Narayana Guru, Rajendra Chola and Shaheed Ashfaqullah Khan  to name a few are the new presiding deities of 'Nationalist Bharatiya history' with many more to come.
Courtesy: The Pioneer