RSS's mission is to generate positive energy in society : Dattatreya Hosabale
Nagpur, Mar. 13: "The mission of Rashtriya Swayamsevak Sangh (RSS) is to generate positive energy in the society by consolidating 'right thinking and well meaning people' and to awaken their patriotism. Looking at the response the RSS evoked through its multi-faceted activities, we have succeeded to a great extent in our mission".
RSS Sah-Sarkaryawah Dattatreya Hosabale at a crowded press conference at Reshambag Friday stated that. He was accompanied by RSS Prachar Pramukh Dr Manmohan Vaidya and his deputy J Nandkumar. The three-day meeting of the RSS Akhil Bharatiya Pratinidhi Sabha (ABPS) was formally inaugurated by RSS Sarsanghchalak Dr Mohanrao Bhagwat and Sarkaryawah Suresh alias Bhayya ji Joshi. Nearly 1400 'pratinidhis' from all over the country are participating in the meeting that will be electing the new Sarkaryawah for the next three-year term.
Addressing the press persons Hosabalae stated that continuous and sustained growth in RSS work all over the country has in turn raised people's aspirations and expectations from RSS. We are therefore employing 'sustainable, consolidated and productive' measures to fulfill them, he added.
Giving examples of such efforts the Hosabale said that 16000 people participated in 'Sangh Parichay Varg' in the last one year. Bengal is a state where RSS presence is not very big but this massive participation told a different story, he said.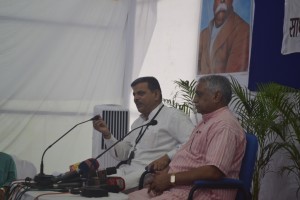 Karnataka Daxin RSS unit organized a unique event called 'Samartha Bharat'. This two day seminar held at Palace Grounds, Bengaluru was attended by 3852 people including 800 women. In that seminar the RSS showcased 45 different social service projects including village development, water harvesting, volunteerism, women's problems, educational projects etc. They were told to choose from such projects to work for. The overall planning of this program can be described as 'Theme for Team' and 'Team for Theme'.

The result was very encouraging, Hosabale said adding that 77 youth in the seminar opted to dedicate them for one year in the service of the nation.

The number of shakhas have increase manifold in the past three years. The number of places has increased from 5161 in 2012 to 10413 in 2015, number of daily shakhas has gone up from 33, 222 in 2012 to 51330 in 2015, the weekly milans have registered a upward growth taking its number to 12847 and the number of monthly congregations called 'Sangh mandali' has touched 9008. The number of shakhas for young students is 6077. Thus the total number of shakhas in all these forms has gone up to 55010.

Similarly, the participation of swayamsevaks in various training camps has also increased. In one week training camps the total number of participants was 80,400 from 23000 sakhas. In the summer training camps this number has gone up considerably. The following table will show the magnitude of this participation.

Sl No. No of Camps Places No. of Participants
1. 59 (Pratham Varsh) 9609 15332
2. 16 (Dwiteeya Varsh) 2902 03531
3. 01 (triteeya Varsh) 0657 00709
4. Prathmik Varg 23812 80409

Besides the number of those joining RSS through internet has also increased. Hosabale said that the overall atmosphere in the country was very favorable for the growth of RSS. This was visible through the large public participation in the various programs of Swami Vivekananda's 150th birth anniversary.

The coming year would be the centenary year of third Sarsangchalak of RSS late Balasaheb Devras. The RSS plans to utilize this opportunity to spread the message of equality and harmony, to accept and adopt the yoga based life style, and consolidate the Hindu society to ensure its total involved participation. For this the RSS will concentrate on Yoga, Social Harmony and social transformation, he added.

/?php if(of_get_option('disable_share') != true) { ?> /?php echo mom_single_share(); ?> /?php } ?>
About The Author
Related posts
Leave a Comment