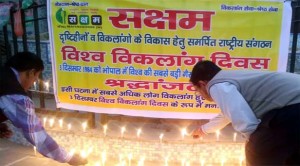 Meerut (VSK). Saksham pay rich tribute to the people who died in the Bhopal gas tragedy on 3rd December. It works for welfare of blinds and disabled. People from all walks of life placed their views on this occasion. On the fatal night of 3rd December, 1984 Metyl Isocynate gas started leaking from the factory of Union Carbide India Ltd, Bhopal and the whole city turned into a highly poisonous Gaseous State .The people were running from pillar to post but in vain .They were unconsciously moving on the streets and vomiting. Finally 5295 people succumb to death & 6199 people were made permanently disabled. Almost 5 lakh people got affected & made victim of this tragedy occurred on the fatal night of 3rd December.
The affected people are still under hope of getting justice from the Government even after 30 years of the incident. The United Nation Organisation declared this day "The 3rd December" as a world Handicapped Day.
On this occasion Shri Atul Gupta, Rakesh Arya, Binay Sharma, Dr. Manoj Shrivastva, Ram Kumar, Advocate, Suresh Agrawal, Radhey Shyam Premi, Sardar Sabajeet Singh Kapoor, Satish Agrawal, Suresh Kumar Sharma, Oh Prakash Sharma and other officials and members of Saksham were present.