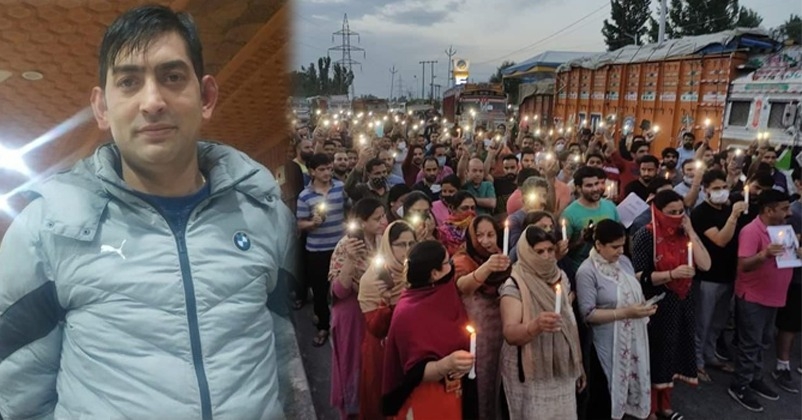 Srinagar. After the targeted killing of Kashmiri Hindu Rahul Bhatt by the Pakistan sponsored terrorists in Chadoora, Budgam, Kashmiri Hindus working in the valley, majority of them under the Prime Minister's rehabilitation package, on Thursday staged protests at different places in Srinagar against the killing of their colleague.
During their protest, they said, "We are being made soft targets by terrorists. They (terrorists) should also clarify their policy. If they are out to kill all of us, they should tell us clearly".
Candle light protests are being held by the Hindu Kashmiri Hindu community across the Jammu and Kashmir UT against the killing of Bhat and several protesters also reached the residence of Rahul Bhat to express their condolences.
Another protest was held along the Pulwama-Shopian highway outside Kashmiri Hindu migrant colony.
On Thursday, Rahul Bhat, a Kashmiri Hindu who was working as a clerk in the Tehsildar's office in Chadoora, Budgam was attacked by a group of terrorists who fired bullets at him from close proximity in the office premises. Following this, he was immediately rushed to the hospital in critical condition and was later moved to Srinagar.
However, after battling for his life for several hours, Bhat succumbed to his injuries at the Shri Maharaja Hari Singh Hospital in Srinagar.
Bhat is survived by his parents, wife and a minor daughter. His wife and daughter were putting up with him at Sheikhpora migrant colony in Budgam district.
Vijay Kumar, IGP (Kashmir) visited Sheikhpora Budgam to express sympathy with the fellow colleagues of the slain employee. IGP said that terrorists responsible for the killing of Bhat have been identified as Aqib Sher Gojri, a new recruit and Lateef Ahmad Rather, a recycled terrorist after he was released from jail.
He said both the terrorists belong to Lashkar-e-Taiba and they shot Rahul Bhat from point blank range using Pistol. Pertinent to mention here that the killing of Rahul Bhat marks the third killing of a Kashmiri Hindu over the past six months. Meanwhile, two other people in the community have been injured in targeted attacks.