In a shocking and unfortunate development, Indian shuttler Tanya Hemant, winner of Iran Fajr International Challenge was forced to wear a hijab at Medal Ceremony.
This came after India's Tanya Hemant stunned top seed and compatriot Tasnim Mir in straight games to win the women's singles title at the 31st Iran Fajr International Challenge in Tehran on Sunday.
Tasnim was no match for Tanya as she went down 7-21, 11-21 in what was the shortest match of the day. This was also the first win for Tanya over Tasnim in a BWF tournament. Tasnim had defeated Tanya in their previous two meetings.
At the medal ceremony, Tanya Hemant was pictured wearing a headscarf as she stood smiling with the gold.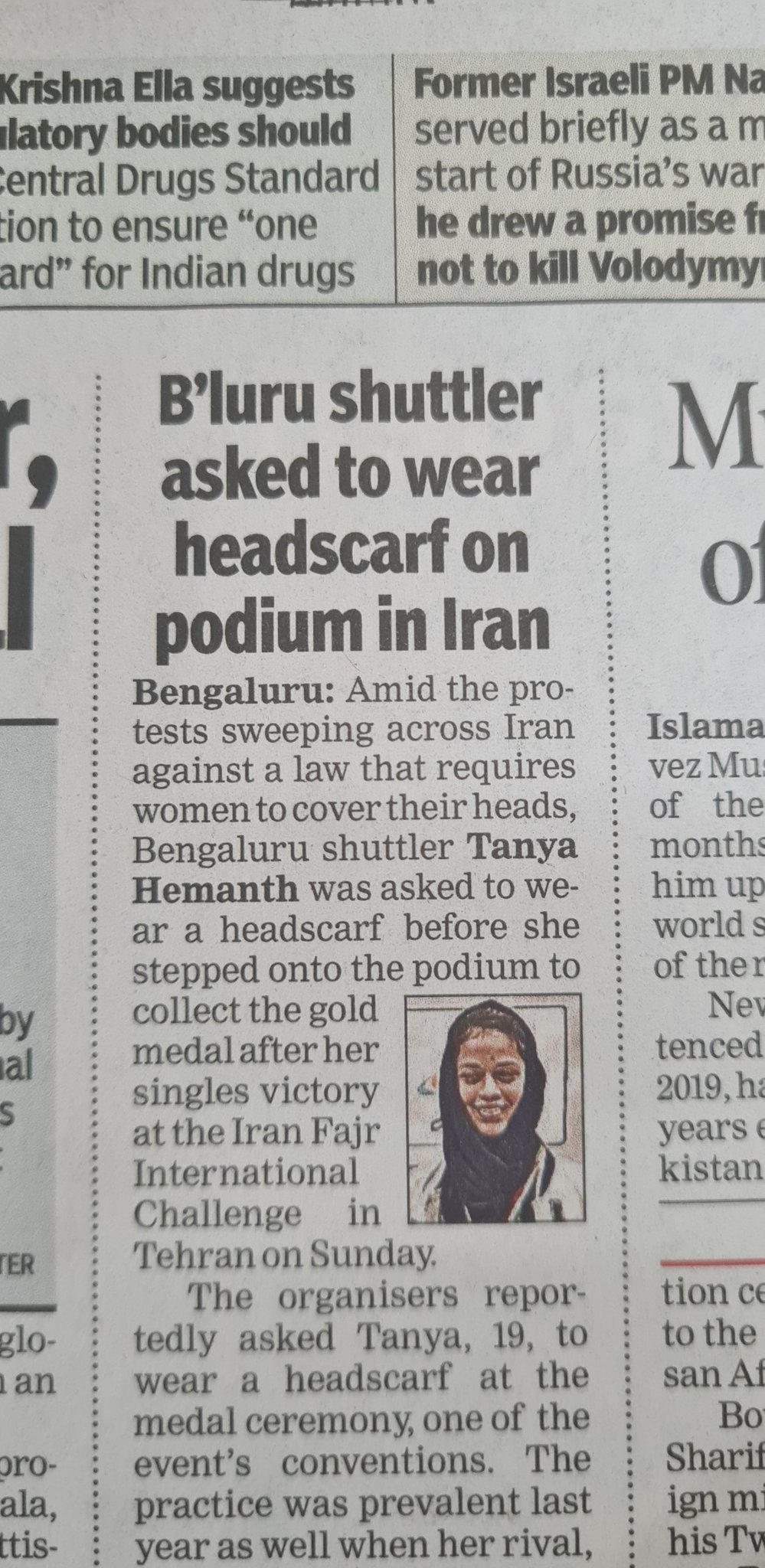 Reports suggest that organisers had told players that headscarves were mandatory even though nothing of that sort was mentioned in the tournament prospectus for a podium dress code.
"The prospectus talked about the clothing rules in the Badminton World Federation's competition regulations, which is mostly common in tournaments around the world. While we knew that headscarves were a must when women stepped out in Tehran, there was no particular mention about their use during the tournament," sources were quoted saying by TOI.
Notably, male spectators were not allowed during women's games regardless of being the player's parent or coach. A board with 'no men allowed' written was hung at the entrance.
However, the tournament had mixed doubles matches for the first time.
"The women's schedule was in the morning and the men's in the afternoon. Only female spectators were allowed to watch the women's matches. Also, match officials were all women in women's matches. Male parents who accompanied their daughters to this meet didn't get to watch a single match. It was only during mixed doubles that men and women players were seen together on the court", as per reports.