Arunima Chitale Pophali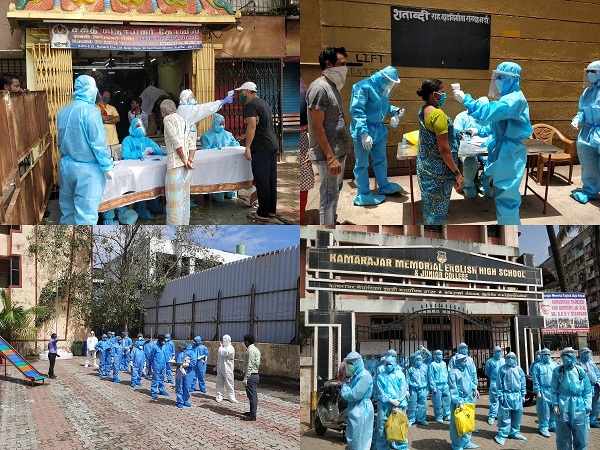 The COVID -19, a deadly disease, is continuing to create havoc in the lives of people. The lockdown, a necessary measure to save peoples' lives, is causing immense economic hardships. Ramrati, one among millions of such people, was just about managing to cook rice for kids and her in-laws while going hungry herself. Her husband lost his job and the family was bereft of any food or groceries. Ramrati, living in a mud house in Govidpura, Sector-C, Bhopal city, was overjoyed with tears in her eyes, when Sewa Bharti volunteers gave her family required food. Those Sewa Bharti volunteers were like angels sent by the God to take care of Ramarati's family. Sewa Bharati's full-time volunteer, Mr. Karan Singh not only gave them the food for the day but ensured that this family did not face any dearth of food for next two and a half months.
Manorama, an old lady lives on the streets of Kolkata with her only possessions of an old mat to sleep and a few utensils to cook. She got a hot meal served by the Sewa Bharti volunteers. It was a proper meal for her after years as she was used to eating just a mesh of Poha (flattened rice). Sewa Bharti volunteers found Manorama by chance. They stumbled upon her after distributing Kadhi-Chawal to many homeless destitute around the railway lines area in the 'City of Joy'. She wished to have a square meal that afternoon. A Swayamsewak (volunteer) of RSS, Mr. Sumit Sahu, fulfilled her wish by getting home-cooked food, and got her plentiful blessings in return. Like Ramrati, Manorama too blessed her angel.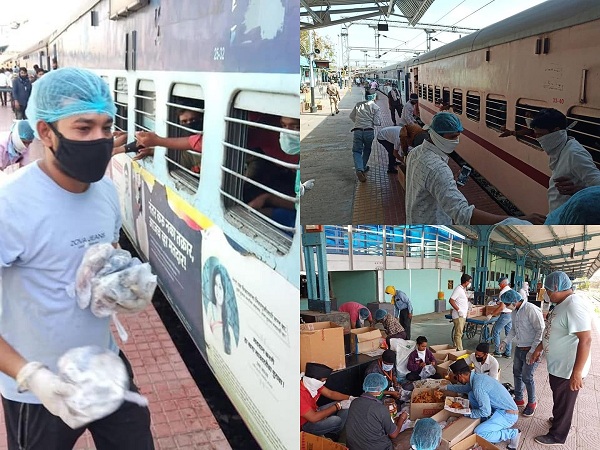 Indore had become a hotspot for COVID. A resident of this commercial capital of MP, Ms. Manju Agrawal, was facing difficulties in performing last rites of her mother. Even friends and relatives were not willing to help, but Swayamsewaks came forward and helped her in performing her mother's last rites.
These are just a few stories of the work done by R.S.S. Swayamsewaks, who showed immense courage, compassion, and commitment to humanity in working on the ground even in the COVID hotspots of Mumbai, Delhi and Indore. They helped everyone, irrespective of people's caste, creed, religion, age, gender, status, or any other criteria, and merely helped based on their philosophy of service to all. Such was their commitment to Seva towards their compatriots that they feared no death.  Shri Ajay Kumar ji, district in-charge of Seva Bharati, Barabanki (Uttar Pradesh), lost his life during an accident while performing his duty for this service work. His sacrifice cannot be forgotten by the nation as he was tirelessly working from dawn to dusk distributing cooked food and dry grocery kits to the needy.
If we talk about mere numbers for this service in India, which  gives us an idea about the vast nature of this work, by 5thJune 2020, more than 4 crore (40 million) cooked food packets, and 73 lakh (7.3 million) dry groceries packets were distributed at 92,656 places. Shri Parag Abhyankar, the all-India Seva Pramukh of Rashtriya Swayamsevak Sangh, says this kind of gigantic effort was possible only due to dedication of millions of Swayamsewaks.
World's biggest sewa organization, coordinates with government agencies as well, to equip people as per COVID-19 safety protocols. There were many who could not buy masks. Sangh distributed 90 lakh (9 million) masks to the needy. Close to 2 lakh migrants were given shelters who were stuck in the cities due to lockdown. Swayamsewaks also helped the doctors for screening the patients and took care of pregnant women. It was an incredible journey and R.S.S. Swayamsewaks touched every aspect of Sewa.
Sewa Bharti is running a 24 hour helpline to help all the needy people. Sewa Bharti's National Convener Shravan Kumar says, that Sewa Bharti even helped those who couldn't ask for help. The sex workers from Delhi, Pune's so-called red-light areas, were also served by Swayamsewaks by sharing groceries regularly. In Indore, when COVID was at peak, Swayamsewaks gave a breather to tired Police personnel manning the barricades.