A VETERAN PASSED AWAY…..
Very sad to know the demise of Sh. Naresh Ji Arora. My deep condolences to his family & all karyakartas in UK.
He was an ardent swayamsevak who practiced the Sangh values in life. My homage to the hallowed memory of Nareshji and I pray Lord to grant sadgati for the departed soul.
OM Shanti.
Datta Hosabale, Sah Sarkaryavah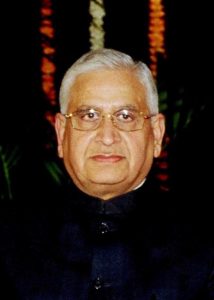 Shri Naresh Arora, a very active and talented Sangh Karyakarta, formerly from Bharat and then of UK, passed away recently (21st June '18) at Chatham, a suburb in London.

He was not keeping well for a long time, having braved the dreadful Cancer for a number of years. He was 78 and is survived by his wife Virender Sindhu and a grown up son Siddhesh.

While in UK, he played a very significant role in various sangh inspired activities such as Friends of India Society and Oversees Friends of BJP and also in the socio cultural activities involving the┬аlocal Bharatiyas.'

He was a well known figure in the Hindi Literary field and was a recepient of several awards such as тАШVishwa Hindi SammanтАЩ, тАШGeorge Greeyarson International AwardтАЩ,┬атАШParamanand Sahitya SammanтАЩ and also тАШHindi Sewa SammanтАЩ.

тАШSeemat Gayee DharatiтАЩ, тАШTems ke tatseтАЩ, тАШus paar – is paarтАЩ, and тАШVaishvik AtankwadтАЩ are some of his famous books. He was a regular contributor to Panchjanya and was a correspondent for Hindustan Samachar during 1969-75.

After his arrival in UK in Jan 1964, he also started a bi- lingual, тАШCHETAKтАЩ, a news bulletin in Hindi and English and was its editor for a long time. He was a regular Hindi News Reader as Naresh Arora, at BBC London from 1968 for more than a decade.

Naresh Ji was born in Firozpur, Punjab in 1940 in a middle class family. His father known as Gyanchand Kaviraj was a devout Arya Samaji and also was closely associated with the local Sangh work. Naresh was thus brought up in the sangh culture right from his young days.

He passed his Matriculation in 1956 and BA┬аfrom the local RSD degree college in Firozpur in the year 1960. He then worked as a sangh pracharak at Palampur in Himachal Pradesh for two years during 60-62 and that time was very close to ┬аMadhavrao Muley Ji and Chamanlal Ji; in fact it was Chamanlal Ji who provided him the necessary addresses of the swayamsevaks of UK after Naresh Ji's first arrival there in Jan 1964.

After the initial settling in UK, Nareshji had completed his management studies and eventually became a senior administrative officer in London Metropolis.

While in UK, he was fortunate to meet all the visiting Sangh Adhikaries including Deendayal Ji, Dattopant Thengadi Ji, Bhide Ji, Sheshadri Ji, and also Sarsanghchalak Rajju bhaiyya Ji, and Sudarshan Ji.

In July 2016, UK celebrated the Sanskruti Mahashibir at the completion of 50 years of Sangh work in UK and Mohan Bhagwat Ji, the present Sarsanghchalak was specially present at this occasion. Naresh Ji, despite his failing health somehow managed to attend the concluding function and thereafter meet Sarsanghchalak Ji.

In Naresh Ji's passing away, Sangh has lost not only a veteran karyakarta but also a very lovable and pleasing elder.

/?php if(of_get_option('disable_share') != true) { ?> /?php echo mom_single_share(); ?> /?php } ?>
About The Author
Related posts
Leave a Comment