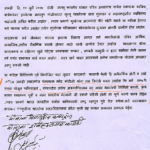 At a press conference in Delhi on August 24, 1949, after the Congress government lifted the ban on the RSS, Sri Guruji (M.S. Golwalkar), the second sarsanghchalak of Rashtriya Swayamsevak Sangh (RSS), termed Pakistan an "uncertain state". "As far as possible, we must continue our efforts to unite these two divided states…Nobody is happy with Partition," he said. He repeated this view at another press conference held in Kolkata on September 7, 1949.
Sri H.V. Sheshadri, who was sarkaryawah of (RSS) for many years, in his book, The Tragic Story of Partition (first edition in 1982, latest in 2014), writes: "There is always the possibility that the divided halves will seize the first opportunity to nullify the unnatural division. Such a possibility need not to be ruled out in respect of Bharat, Pakistan and Bangladesh too. The ancient national roots of Pakistan is essentially Hindu. Would it be a surprise if a state (Pakistan) based on such specious and artificial presumptions and devoid of any philosophical base would one day choose to enrich its life by returning to its ancient mother culture? Gradually, the truth would one day dawn upon them (Pakistan and Bangladesh) that they have not, after all, benefited from Partition, and that their physical and mental happiness could result only from their union with Bharat and its cultural heritage."
BJP national secretary and RSS Pracharak Ram Madhav asserted on December 26, 2015, in an interview broadcast on Al-Jazeera television channel: "Akhand Bharat would see Pakistan and Bangladesh reunited with India. The RSS still believes that one day these parts, which have for historical reasons separated only 60 years ago, will again, through popular goodwill, come together and Akhand Bharat will be created."
In a rare occurrence, Muslim clerics supported RSS belief of "Akhand Bharat" in Pune. Under the banner of Awami Mahaz, a social organization 200 clerics from different mosques, trustees and Muslim social workers gathered on July 14, 2017 in Azam Campus, Pune. The meeting urged Prime Minister Narendra Modi "to unite Pakistan, Bangladesh and Afghanistan into one nation as India". This was the call of the hour "to keep India prosperous and peaceful", the meeting resolved. (See the resolution text in Marathi).