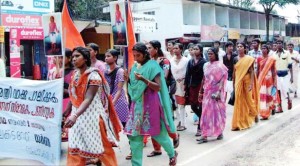 Kozhikode (vsk). Karinthandan the Paniya Tribal chieftain was path finder of Paniya tribes of Kerala was the person who had found out the Thamarassery ghat route enrooted to Wayanad from Kozhikode. The route was built between the years 1700 to 1750. With the help of Karinthandan the Britishers established the path and slowly it was developed to a national high way after 1950s. But the Britishers were not ready to give the credit of novelty to that tribal chieftain. The story which prevails all over the community says, that after discovery of the route he was brutally killed by Britishers and his spirit has not got rest for countless years. Even the road was opened for general traffic so many accidents were occurred. To find a remedy for it the authorities and other general people called a well versed person who knew tantric rituals and he conducted a pooja and kept the holy spirit of Karinthandan into a iron chain and it was kept on a tree near Lakkidi on the way to Wayanad.Now this tree and the chain are a centre of reverence for tribal people.
For the last 5 years PEEP is demanding to build a fine memorial for Karinthandan at Lakkidi, Wayanad. PEEP is the subordinate organisation of Keral Vanavasi Vikasa Kendram. On 1st Nov workers of PEEP had organised a procession and dharna in front of Wayanad Dist. Collector ate demanding to build a grand memorial for the Vanvasi leader. Suhas Pathak, national in-charge of chathravas of Vanavasi Kalyan Ashram had began the dharna and Palliyra Raman the President of Keral Vanavasi Vikasa Kendram had addressed the gathering. Sri.Vasudevan cheekkalloor, EK Soman N P Padmanabhan and Sunanda OB had led the programme.
Peep is an NGO Inspired by RSS,which has been working since 2005 among the Paniya tribe who are settled in Wayanad, Malappuram, Kannur and Kozhikkode districts of Kerala. The tribe population of Kerala, merely comes to 1.15 percentage of the total population of the state. Amoung them Paniyas are the largest and the most backward tribe with population of 80,000. The total population depends on agriculture and plantation labour for their livelihood.