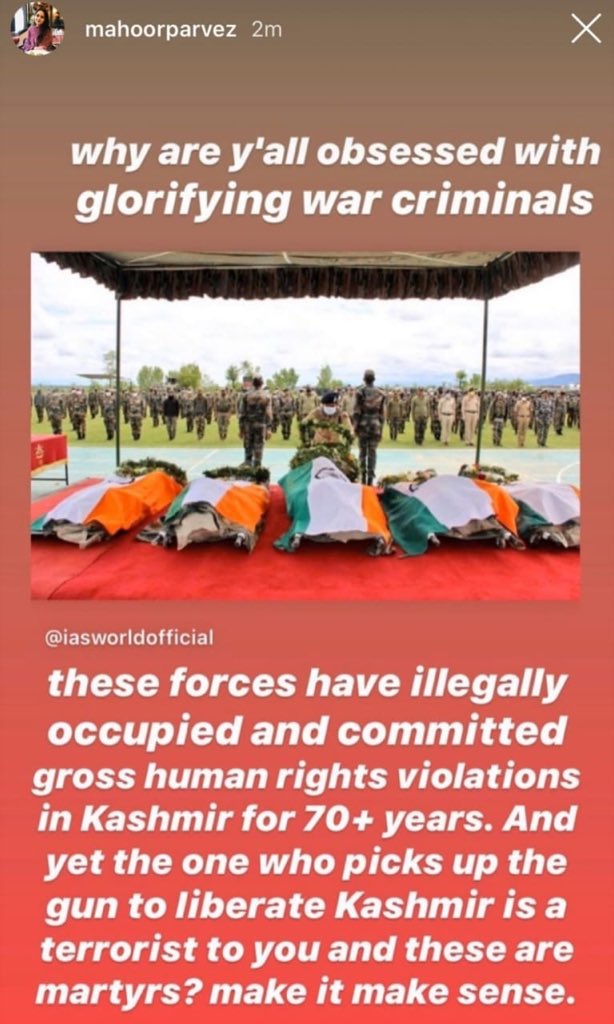 New Delhi. The brave soldiers who fought against the terrorists and laid down their lives in Handwara are being given a salute by the nation, when on the other side extremist people are calling them as 'war criminals'.
Jamia Millia Islamia University law student Mahoor Parvez in her Instagram story referred the martyred Indian soldiers as 'war criminals' on Sunday.
"Why are you all obsessed with glorifying war criminals? These forces have illegally occupied and committed gross human rights violations in Kashmir for 70+ years. And yet the one who picks up the gun to liberate Kashmir is a terrorist to you and these are martyrs? Make it make sense," she said.
On the other hand, Pakistanis on Sunday took to Twitter to celebrate as five Army personnel lost their lives in the terrorist encounter in Handwara, Jammu & Kashmir. The Islamists mocked the Handwara by claiming that it was a repeat of Abhinandan Varthaman episode, in which the Airforce fighter pilot was captured by Pakistani Army right after Indian Airforce had stuck terrorist hubs at Balakot inside Pakistan.