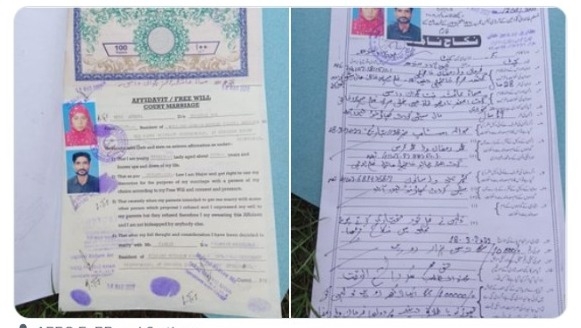 In one another forced conversion matter on 14th March in Sindh of Pakistan, 15 years old Hindu girl Bindiya Meghwar was forcibly converted to Islam and married off in Khairpur, Sindh. She is now Fatima. Sadly, this is the reality of minorities in Pakistan which was 12.9% in 1950 and today it's about 1% of their total population.
Over 90% of Hindus in Pakistan have vanished. Still, nobody is talking about it. Forced conversions, abductions, genocide and state sponsored policies are the reasons.
In another case of abduction and forced conversion to Islam, Hindu 18year old girl Pooja Kumari has been shot dead by Wahid Lashkari in Sukur of Sindh in Pakistan. Her only fault was she refused to marry a Muslim, resisted her forced conversion to Islam.
Pakistan's Hindu communities have long faced the issue of forced marriages and conversions and still continue to face it everyday. This is just one of the few conversion cases that are reported. Pakistan has failed to protect minorities. Rights group say each year in Pakistan, as many as 1000 girls are forcibly converted to Islam, often after being abducted or tricked.
Breaking News coming in – Last night, a minor #Hindu girl, Bindiya Meghwar has been abducted for #ForcedConversion in Khairpur, Sindh. @sherryrehman @sindhpolicedmc8 please recover her safely before conversion. @bilalfqi @Xadeejournalist @anis_farooqui @KashifMD @FaqirShiva pic.twitter.com/QTXbvDvORP

— Voice of Pakistan Minority (@voice_minority) March 15, 2022