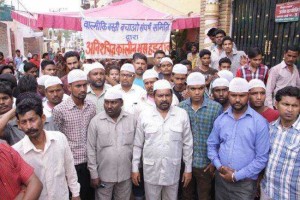 Merut. Rampur, a district of Uttar Pradesh, is the only town in India's largest populous state that boasts of a Muslim majority. The 2001 census confirmed the Muslim domination in the city. And, though the 2011 census figures based on religious demography are not out, yet anybody residing in Rampur can vouch that there is a discernible huge spurt in the Muslim population. Even a casual visit to Rampur confirms this fact. The Hindus have conveniently been side-lined in all spheres of socio-political life.
The local Samajwadi Party MLA is the most powerful minister in Chief Minister Akhilesh Yadav's cabinet and has been calling the shots everywhere in UP. He runs the Rampur administration as his personal fiefdom. He is deemed as 'Rampur ka badshah' (King of Rampur) both by his supporters and detractors.
Recently a news from Rampur city exploded like a bombshell on the entire nation. A newly constructed mall needed parking space in its vicinity and the Valmiki locality fell in its way. It needed to be cleared, and the residents uprooted, to facilitate making of the parking space. Municipal records say that the Valmiki basti have occupied this land since the time of British-rule over India.
Interestingly, this mall has the 'blessings' of 'Badshah' and so the "occupation" of Valmikis had to be cleared at all costs. The same was conveyed to the basti dwellers making them run from pillar to post to save their houses.
Meanwhile an employee of the municipality told the Valmikis that if they convert to Islam, they won't be uprooted. Some of them took this as an affront and seven persons began indefinite fast since April 7. Others with feeble hearts displayed their readiness to embrace Islam. Hindu organisations rushed to show solidarity with their Valmiki brethren. Nepal Singh, a local BJP MP, also stepped in. He had some rounds of talks with the district administration and succeeded in making them agree to the reasonable demand of these Valmikis to arrange for an alternative houses somewhere else if they are displaced they should be allowed to stay put.
Ajay Mittal